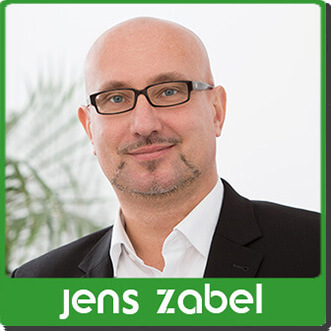 Profile of a Marketeer
Hi, my name is Jens ZabeI and I am the founder of zabIT Marketer Service.
I'm an internet Marketer with a love for online business. In my past as owner and director of a sales consultancy company in Bremen, Germany, I professionally supported, guided and advised clients to be successful entrepreneurs.
I was a trainer and skilled coach for specialists and executive staff for many companies local and international. My business was getting more sales, more market shares and more profits for my clients.
I had a downtown office and employees and worked successfully as a sales consultant for more than 12 years – but with a lack of freedom.
Thankfully the business rules have changed… and so have I. The possibilities of online businesses offer unparalleled opportunities to run businesses worldwide. It's all about designing the lifestyle I want and reaching the freedom and income to live the life I really look for. Today the Internet makes it possible.
I best describe myself as a staunch pragmatic thinker, a hybrid mix between geek, creative, marketer, and sales master. And in matter of online marketing and online entrepreneurship I am an autodidact.
But online smart passive income is my way to go – for now and the future. I am a student of life; a sponge for information and knowledge. I know a little about a lot of things and a lot about a few things.
The internet offers me so many business models to build lucrative and ethical Internet businesses, all while working less – from products sale, affiliate marketing, blogs, YouTube and online communities to downloadable information and even freelancing and SEO-consulting.
What's important to me now is having online businesses that allow me to live on my own terms. Now, my business gives me the freedom to choose projects that fascinate me, make money while working less, finding my own path and true passion.
A person with a new idea is a crank until the idea succeeds.
I still work. It just doesn't feel like "work" because I've built my business around things I enjoy and am good at. I choose my hours, and the more I focus on the right activities, the faster I succeed. Because my business is based online, I can reach more potential customers worldwide and work from virtually anywhere.
Besides from being an Online Marketer, I am a professional Coach and Trainer and I made it my business to help inspire and educate others on how to succeed with their own online entrepreneurial careers.
For further information, please contact me using the adjacent contact form.